Listserv Messages
3 Circles FFA & SAE Grant Update
Thursday, July 26, 2018
---
*Sent to Ag Teachers, Principals, & Superintendents in southern most 28 counties(District 5).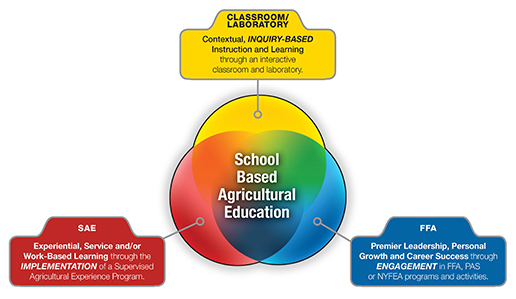 The Three Circles FFA & SAE Grant is now entering its second year with funding appropriated for FY19. View ISBE Consultant, Brian Houser's, July 16th email message for detailed instructions and guidance.

School districts can still apply for FY19 grant funding by Friday, August 31st - FY19 Initial Application. 210 agriculture teachers have applied so far with a goal of 285 participants. Our ISBE partner is working to have the FY19 IWAS application available soon where school districts can complete the budget and performance report which includes documentation of the previous year hours and grant payment to the ag teacher(s). A performance report is not required for a first time applicant.

These 148 schools participated in FY18 representing 160 ag teachers resulting in a 41% increase of ag teachers with a 12 month contract. More information about the grant is below:
Grant goal is retain quality ag teachers by compensating them for their time and effort and to encourage ag teachers to devote extended time to students, schools, and communities.
Initiate a meeting with ag teacher(s), administration, FFA Alumni, school board member, and agribusiness leaders to discuss the opportunity and 50% match. Take the lead.
Grant will pay for 50% of an ag teachers extended contract(400 hours) from July 1, 2018 to June 30, 2019. The school district, FFA Alumni, agribusinesses, others would be required to fulfill 50% of the extended contract grant. Existing extended contract and FFA stipend may already cover the 50% school match.
Example...Ag teacher 9 month salary is $40,000 with TRS and THIS included. $40,0000 divided by 180 days = $222/day multiplied by 60 days = $13,320 is the total value to the ag teacher. Yearly salary total = $53,320. Grant pays 50% = $6660. Click for an Excel file to calculate the grant.
The 400 hours of teacher's time beyond the school day is of value to students, school, and community. All entities involved should discuss the make-up of the 400 hours which will allow for ownership instead of the ag teacher only making this decision. A new school landscaping project, agribusiness connections, SAE employer and home visits, or a work place skills course or workshop over the summer can benefit the entire school and student body. Think outside of the box with these 400 hours by the ag teacher.
The second primary goal of this grant is to recruit high school and college students to major in agricultural education to meet the demand of school districts. 100 students graduating yearly with a degree in agricultural education ready to teach is our goal.
I would be glad to stop by or have a conference call to help explain this awesome opportunity. (618) 604-1622. Thank you.


To be removed from this list, contact

[email protected]